SBS-LSL series Catalogue
♦
Light Structure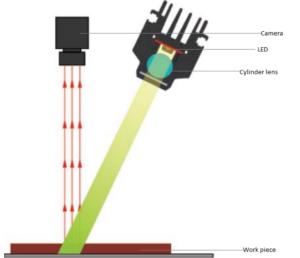 ♦
Standard Line Scan Light Illumination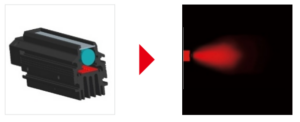 The standard line scan light is one type of LED machine vision lighting which used uniformity diffuser, it keep the lighting coming out more uniformity and some focused. It is good for the reflective surface inspection like wafer inspection, solar panel inspection, LCD inspection, web inspection, metal surface inspection, battery surface inspection, battery surpface inspection and so on.
♦
Spectrum Distribution

♦
Machine Vision Applications
• Printing material defects inspection
• LCD surface defects inspection
• PCB solder joint and defects inspection
• Tobacco package box and shape detection
• Box selection in the logistic industry.
♦
Item No. Description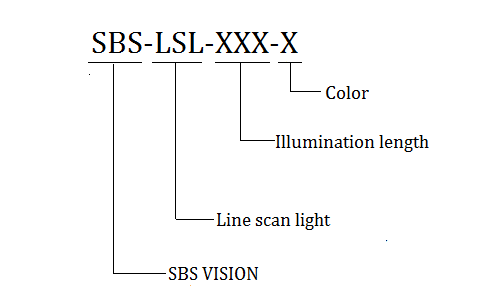 ♦
Models
| | | | | | |
| --- | --- | --- | --- | --- | --- |
| Item No. | Power Comsuption (R) | Power Comsuption  (W,B,G) | Connector type | Extension Cables | Recommended Controller |
| SBS-LSL50 | recheck | 24V/7W | 3 pin connector | 1m/3m/5m | All the items are |
| SBS-LSL100 | recheck | 24V/14W | 3 pin connector | 1m/3m/5m | compatible with |
| SBS-LSL150 | recheck | 24V/21W | 3 pin connector | 1m/3m/5m | SBS-DCH24 |
| SBS-LSL200 | recheck | 24V/28W | 3 pin connector | 1m/3m/5m | SBS-DCH48 |
| SBS-LSL250 | recheck | 24V/35W | 3 pin connector | 1m/3m/5m | |
| SBS-LSL300 | recheck | 24V/42W | 3 pin connector | 1m/3m/5m | |
| SBS-LSL350 | recheck | 24V/49W | 5 pin connector | 1m/3m/5m | |
| SBS-LSL400 | recheck | 24V/56W | 5 pin connector | 1m/3m/5m | |
| SBS-LSL450 | recheck | 24V/63W | 5 pin connector | 1m/3m/5m | |
| SBS-LSL500 | recheck | 24V/70W | 5 pin connector | 1m/3m/5m | |
| SBS-LSL550 | recheck | 24V/77W | 5 pin connector | 1m/3m/5m | |
| SBS-LSL600 | recheck | 24V/84W | 5 pin connector | 1m/3m/5m | |
| SBS-LSL650 | recheck | 24V/91W | 5 pin connector | 1m/3m/5m | |
| SBS-LSL700 | recheck | 24V/98W | 5 pin connector | 1m/3m/5m | |
| SBS-LSL750 | recheck | 24V/105W | 5 pin connector | 1m/3m/5m | |
| SBS-LSL800 | recheck | 24V/112W | 5 pin connector | 1m/3m/5m | |
| SBS-LSL850 | recheck | 24V/119W | 5 pin connector | 1m/3m/5m | |
| SBS-LSL900 | recheck | 24V/126W | 5 pin connector | 1m/3m/5m | |
| SBS-LSL950 | recheck | 24V/133W | 5 pin connector | 1m/3m/5m | |
| SBS-LSL1000 | recheck | 24V/140W | 10 pin connector | 1m/3m/5m | |
| SBS-LSL1100 | recheck | 24V/154W | 10 pin connector | 1m/3m/5m | |
| SBS-LSL1200 | recheck | 24V/168W | 10 pin connector | 1m/3m/5m | |
| SBS-LSL1300 | recheck | 24V/182W | 10 pin connector | 1m/3m/5m | |
| SBS-LSL1400 | recheck | 24V/196W | 10 pin connector | 1m/3m/5m | |
| SBS-LSL1500 | recheck | 24V/210W | 10 pin connector | 1m/3m/5m | |
| SBS-LSL1600 | recheck | 24V/224W | 10 pin connector | 1m/3m/5m | |
| SBS-LSL1700 | recheck | 24V/238W | 10 pin connector | 1m/3m/5m | |
| SBS-LSL1800 | recheck | 24V/252W | 10 pin connector | 1m/3m/5m | |
| SBS-LSL1900 | recheck | 24V/266W | 10 pin connector | 1m/3m/5m | |
| SBS-LSL2000 | recheck | 24V/280W | 10 pin connector | 1m/3m/5m | |
♦
Dimensions

Above drawing is for the 3 pin connector

Above drawing is for the 5 pin connector